Botanicare® ABS CT Drain Tray
Botanicare® ABS CT Drain Tray
---
Botanicare® ABS CT Drain Tray
Botanicare CT Grow Trays are customizable grow trays made from durable white ABS plastic. The sidewalls on these versatile hydroponic grow trays are 2.5 inches high, an ideal height for environments with drip irrigation. Because we know no two grows are alike, these trays come in a wide range of lengths so you can customize your system for your setup.
Choose between 4-foot (1,200 mm) and 5-foot (1,500 mm) widths, and combine a Drain and End Tray to create an 8-foot-long span.
There are 4-foot and 8-foot long middle trays in both 4 and 5 foot widths to create sections 12, 16, 20, or 24 feet long and beyond, to equip your greenhouse or indoor growing space with a fit that's as efficient as it gets.
Combinations: (Drain trays and end trays are 4-foot wide). All lengths available in 4-foot width or 5-foot width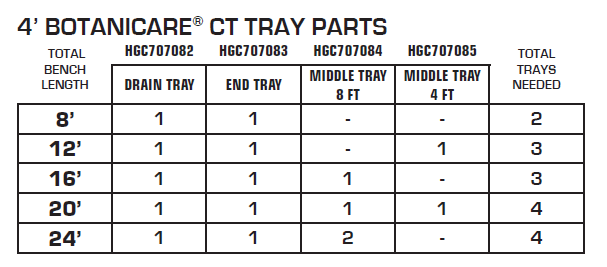 Custom Sizing Available
Note: The options we have above allow up to 40-foot trays in increments of 4 or 8 feet. If there is a specific size of tray you would like that is larger than what is listed, give us a call and a salesperson can help put together a custom grow tray for you. If you require a smaller CT Grow Tray than the sizes we have available, we can do that too. Many of our smaller sizes (8 ft., 12 ft., 16 ft., and 20 ft.) of the CT Grow Trays require a minimum quantity so give us a call and any one of our sales team members will be able to assist you in getting the size you need and making sure it works for your grow operation.
Note: This page is for choosing the entire Botanicare CT Grow Tray with the length of your choosing. If you require 1 or only a few individual pieces of the CT Grow Trays, please give us a call and one of our amazing sales representatives will be able to help you find the 1 or 2 pieces you are looking for!
Sealant for tray construction included
For each group of Grow Mod Trays, we have included enough sealant to connect all necessary pieces together with some to spare. Each bottle of sealant is meant to create about 3 seals or 4 trays (4 trays = 3 seals).
Sealant yields 16.75 feet of seams (4 ft - 3.7 seams, 5 ft - 3 seams). This low-odor, eco-friendly sealant seals fast and will cure when water or moisture is present. This solvent-free formulation is easy to use, has excellent long term properties, and resists weathering and UV degradation.

| | |
| --- | --- |
| Weight (lbs) | 14.89 |
| Length (in) | 48 |
| Width (in) | 47.56 |
| Height (in) | 3.36 |
| Barcode | 757900500511 |